The Sandman Will Keep You Awake - The Loop
Play Sound
Clueless is an American teen sitcom based on the 1995 film of the same name (which was inspired by Jane Austen's 1815 novel Emma). It originally premiered on ABC on September 20, 1996, as a part of the TGIF lineup during its first season. The series then spent its last two seasons on UPN ending on May 25, 1999. Alicia Silverstone had a development deal with Columbia-TriStar at this time, and did not reprise her role from the film.
Premise
Clueless is a teen comedy that follows the adventures of Cher Horowitz, a California girl who attends Bronson Alcott High School. Cher and her friends navigate the ups and downs of high school life as they face struggles with relationships, school, and social status.
Seasons
Episodes
Cast
Main

Donald Adeosun Faison

as Murray Duvall

Sean Holland

as

Sean Holiday

(seasons 1–3; recurring, episodes 1–13)

Elisa Donovan

as

Amber Mariens

David Lascher

as

Josh Lucas

(season 1)

Twink Caplan

as

Mrs. Geist-Hall

(season 1)

Michael Lerner

(season 1) and

Doug Sheehan

(seasons 2–3) as

Mel Horowitz

Wallace Shawn

as

Mr. Alphonse Hall

(season 1)

Sean Holland

as

Sean Holiday

(seasons 1–3; recurring, episodes 1–13)

Recurring

Julie Brown

as Coach

Millie Diemer

Christin Hinojosa

as

Lillia

Heather Gottlieb

as

Tai Frasier

Jeremy Wieand

as

Larry

Special guest stars

Melissa Joan Hart

as

Sabrina Spellman

Brittany Murphy

as

Jasmine

Lamont Bentley

as

Hakeem Campbell

Shar Jackson

as

Niecy Jackson

Breckin Meyer

as

Harrison

Paul Rudd

as

Sonny
Guest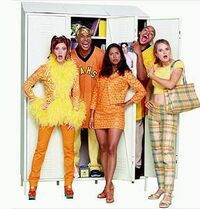 Production
Conception
Though the television program is based on the film, director Amy Heckerling intended it to be a TV show for Fox. It eventually was picked up by Paramount as a film, which then led to the television series. Rachel Blanchard played the role of Cher that was originated by Alicia Silverstone in the film. Stacey Dash (Dionne), Donald Faison (Murray), Elisa Donovan (Amber), Wallace Shawn (Mr. Hall), and Twink Caplan (Ms. Geist) all reprised their film roles for the television series. Sean Holland, who appeared as Lawrence in the film, portrayed the new character Sean Holiday in the TV series. The program aired on ABC from 1996 to 1997 and with a network change to UPN from 1997 to 1999. The theme song for the TV series, "Ordinary Girl," was written by Charlotte Caffey (of The Go-Go's) and Anna Waronker, and was performed by China Forbes.
Network change
After the series was canceled by ABC, the reruns of the episodes on their Friday night TGIF line-up proved to be ratings winners for ABC. However, it was too late for ABC to get the series back, and they prevented UPN from broadcasting the series until their contract ran out in late September. Clueless finished #46 in the ratings with 13.3 million viewers. Only Sabrina the Teenage Witch (a show on which Elisa Donovan, Donald Faison and David Lascher would eventually become regulars) had higher ratings for Friday. Reportedly, the star of Sabrina, Melissa Joan Hart, was considered for the part of Cher on the Clueless TV series.
UPN cancelled the show after the third season (1998–1999), reportedly because of sharply declining viewership. By the final season, the show had retained only 30% of its original 1996 viewing audience.
Trivia
This is the first piece of Clueless media to be a tv show.
This series was meant to happen before the film.
Alicia Silverstone turned down the offer to appear on this show, preferring to continue with her film career.
Stacey Dash,

Donald Faison

,

Elisa Donovan

,

Twink Caplan

and

Wallace Shawn

are the only regular cast members who also appeared in the 1995 theatrical film version.

Paul Rudd

,

Breckin Meyer

and

Brittany Murphy

made guest appearances as different characters.

Amy Heckerling

was romantically involved with actor

Bronson (Alcott) Pinchot

. She named the

high school

after him.
The character of Coach

Graham Bullock

, played by

Bill Kirchenbauer

is actually an homage to television series Growing Pains (1985) and Just the Ten of Us (1987) as in both of those shows the same actor played Coach Graham Lubbock. Same named character but with the L and the B switched in the last name.
Elisa Donovan and David Lascher later starred together on Sabrina, The Teenage Witch which is another series that debut on the same night as this series.
Gallery
Images
Videos
See Also
External links
References