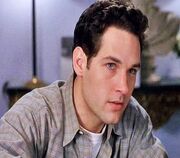 Josh Lucas is a character on the 1995 film, Clueless.
Cher's ex-stepbrother, as Mel had been married to Josh's mother five years earlier. Josh has ambitions to be a lawyer (his focus is environmental law), and during a college break comes for a protracted visit Cher and her father at their house; he claims that being around Mel is a "great learning experience." At first, he doesn't seem to like Cher. And she doesn't seem to like him either. They pick on each other as a person and tease each other all the time. He thinks she is ditzy, superficial, vain, and selfish, while she thinks he is a bleeding heart liberal who is annoying, uncool, serious, and idealistic. However, as the movie progresses, they start to see past their misunderstandings and misconceptions about each other and begin to see the real characters within. As they begin to see more and more of this, there opinions of each other soften and they begin to like each other. At the end, they get together.

He is based on the Emma character, George Knightley.