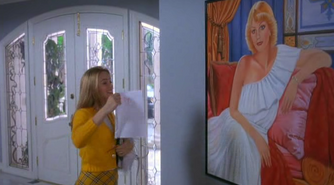 "Wasn't my mom a Betty? She died when i was a baby. A fluke accident during a routine lipsuction. I don't remember her but I like to pretend she still watches over me"~ Cher describing her late mother in the film.
Cher's mother, Mrs.Horowitz was once what Cher dubbed "a Betty", due to her natural beauty. Cher hasn't really been able to bond with her mother in person It's revealed by Cher in the beginning of the movie that Mrs.Horowitz died when Cher was an infant, succumbing to complications from her routine lipsuction surgery.  Dispite her accidental death and having not really known about her in person, Cher holds a place for her in her heart and believes that her mother still watchs over her, through better or worse. Her widow, Mel Horowitz is the father of their only child Cher and step-father to Josh, and for the most part, a single man, having had a number of relationships prior to the events of Clueless; he is divorced from Josh's mother, whilst she was deceased.
Role in Clueless (film)
Edit
Her daughter, Cher Horowitz (Alicia Silverstone) is a good-natured but superficial girl who is attractive, popular, and extremely wealthy. A few months shy of her sixteenth birthday, she has risen to the top of the high-school social scene, and is happy and self-assured in her insular, fashion-obsessed world. She lives in a Beverly Hills mansion with her father Melvin (Dan Hedaya), a ferocious $500-an-hour litigator; her mother has long since died, having succumbed to accidental complications while undergoing a routine liposuction surgery and a portrait of her remains on one of the mansion walls in her honor.